Our very own Dan Fabius, DO, FACP, sat down with athenahealth to discuss the importance of their recently formed Clinical Advisory Board. The board, composed of 30 members, including providers and clinical IT administrators, focuses on bringing the clinical voice to product design and development.
Learn more about athenahealth and the Clinical Advisory Board at https://lnkd.in/eS4d_mZ5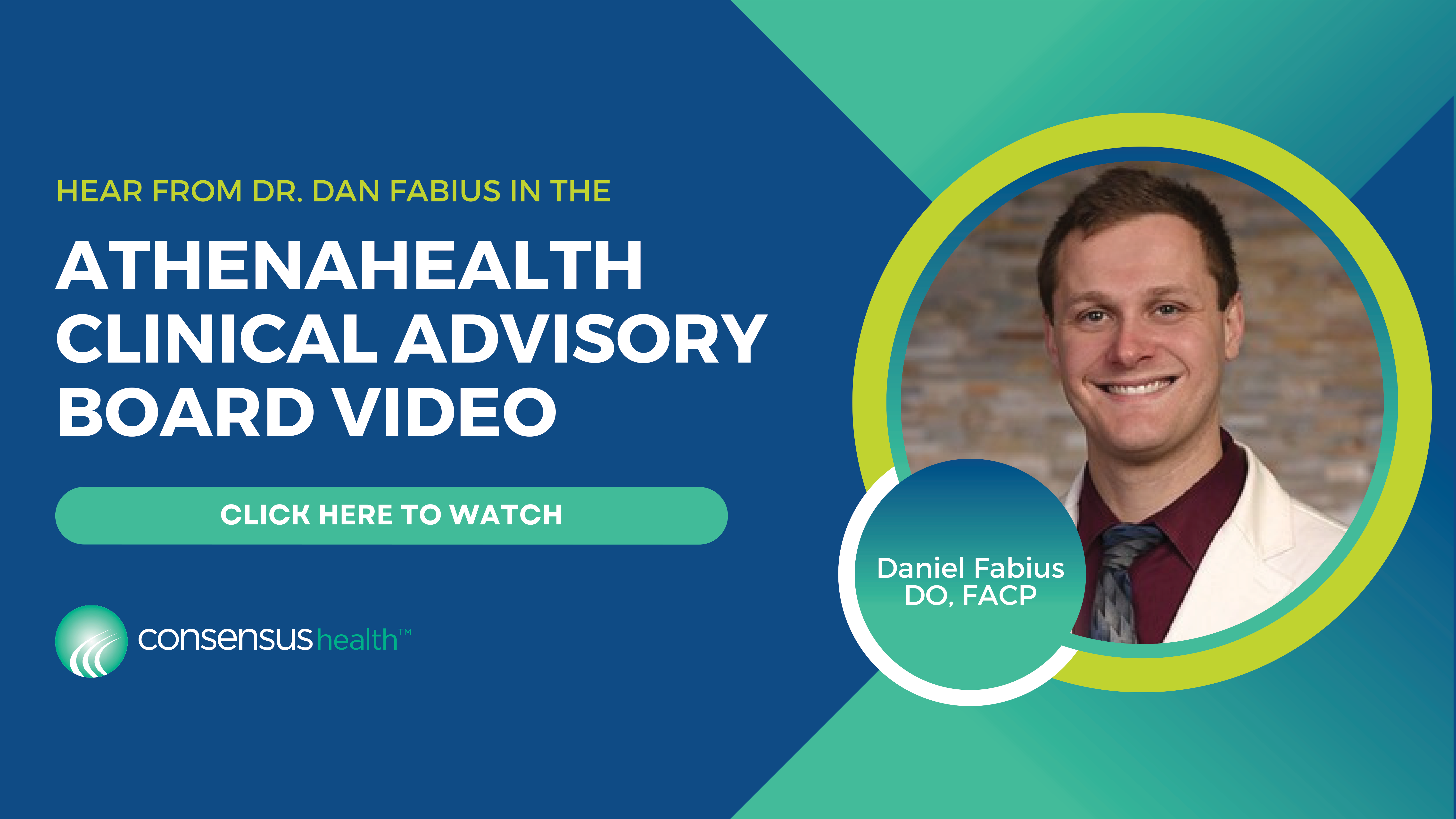 #athenahealth
#healthcareproviders
#productdevelopment
#healthcaretechnology
#revenuecyclemanagement
#patientengagement
#qualitycare
As Chief Medical Informatics Officer, Dr. Fabius provides clinical oversight of electronic health records; oversees clinical data management, migration, analysis and strategy; serves as a clinical liaison to the care coordination team; and acts as an advisor for clinical operations for Consensus Health in conjunction with Consensus Medical Group leadership.
In addition to his role at Consensus, Dr. Fabius is currently a practicing physician in Sicklerville, NJ. Dr. Fabius is board certified in internal medicine and clinical informatics. He received his bachelor's degree in biomedical engineering from Rensselaer Polytechnic Institute before earning his medical degree at Philadelphia College of Osteopathic Medicine. After completing his residency in internal medicine at Cooper University Hospital, he remained on staff as the Associate Program Director for Cooper Medical School of Rowan University. He also served as an Assistant Professor of Medicine at the school, as well as a clinical informatician for the Cooper Health System.
Dr. Fabius was selected to SJ Biz's "Who's Who in Healthcare" for 2019. He is a Fellow of the American College of Physicians, member of the American Osteopathic Association, Biomedical Engineering Society, and Tau Beta Pi, Engineering Honor Society. Most recently, Dr. Fabius was selected as one of 30 members nationwide of the athenahealth 2022 Clinical Advisory Board. As a Clinical Advisory Board Member, he will collaborate with the athenahealth product team and contribute his clinical voice and user experience to provide feedback on the long-term direction of their product roadmap as well as features in active development.