Case Study | athenahealth and Consensus
Innovative technology and business practices enable a Managed Service Organization (MSO) to grow their network of independent clinicians

Challenges
Administrative tasks take time away from patient care
Lack of in-system insights for clinicians at the point of care
Insufficient reporting to inform financial outcomes and organizational growth
Solutions
athenaOne®
athenaTelehealthTM
athenaOne® Dictation Powered by Nuance®
Results
Grew from 44 to 107 MDs within two years
Helped maintain the independent practice of medicine in New Jersey through an MSO support model
A desirable clinician experience with insights surfaced at the point of care to maximize care gap closure
Custom-built dashboards provide daily actionable insights to physician owners
Strong performance in accounts receivable (AR) management metrics (75th percentile of athenahealth customers)
Private equity backing positions the organization for future growth
Healthcare providers today are faced with growing pressure from many angles, especially as they look to grow and scale their operations. Consensus Health, comprised of New Jersey-based independent primary care and related specialty clinicians, provides a differentiated offering for clinicians who want to maintain their independence and clinical autonomy, but also want the benefits of being part of a larger healthcare organization with deep expertise in their region. They take on the administrative work that is typically a burden for smaller practices, like human resources, payroll, financial accounting, vendor management, and facilities work, to name a few. Consensus Health enables physicians to focus on providing care, while also helping them to scale their growth.
Increased efficiency and growth are not only top of mind for Consensus, but also for their private equity investors, Ascend Partners, who are well-steeped in the healthcare industry. Michael Lovett, Consensus Health's president and chief operating officer, says that partnering with athenahealth provides confidence that the team is making good decisions around technology. "It's great to have investors who are physicians and have been in healthcare a long time, who understand what's happening as providers," said Lovett. "They want to make sure that we're using our capital effectively and efficiently, and with athena, we're maintaining good, effective, and efficient operations every day."
Through significant investment in innovative technology, data analytics, and business processes that wick work away from their clinicians, Consensus has grown from 44 to 107 MDs and 16 to 31 advanced practice providers within two years. "athenaOne is really the engine that drives the IT function," Lovett explained. "We take on all of the burden of transitioning to a higher quality EHR, make that transition much more streamlined and smooth, and then help providers utilize the platform in a much more efficient way."
Enhancing operational efficiency
One of the ways that the Consensus team improves operational workflows is taking on revenue cycle management on behalf of their affiliated practices. In doing so, they are able to analyze financial performance data from athenaOne via Power BI dashboards to refine unique insights for their practices, offering clinicians up-to-date insight into everything from what their payer mix is to clinician productivity metrics.
This partnership allows Consensus to focus on increasing efficiency among their practices, and it allows their practices to get paid more, without additional work. By focusing on actionable data insights, Consensus has achieved strong performance on accounts receivable (AR) metrics across the board, putting them in the 75th percentile of athenahealth customers.
"athena gives our doctors what they need," said John Juzaitis, chief commercial officer. "We're giving providers the dashboards so they have total visibility into their day-to-day, but they don't have to do the work of synergizing it. They're able to get the answers they need, and they're able to be efficient. When you put that all together, it's a nice package to be able to offer to physicians. And that's what's made us successful."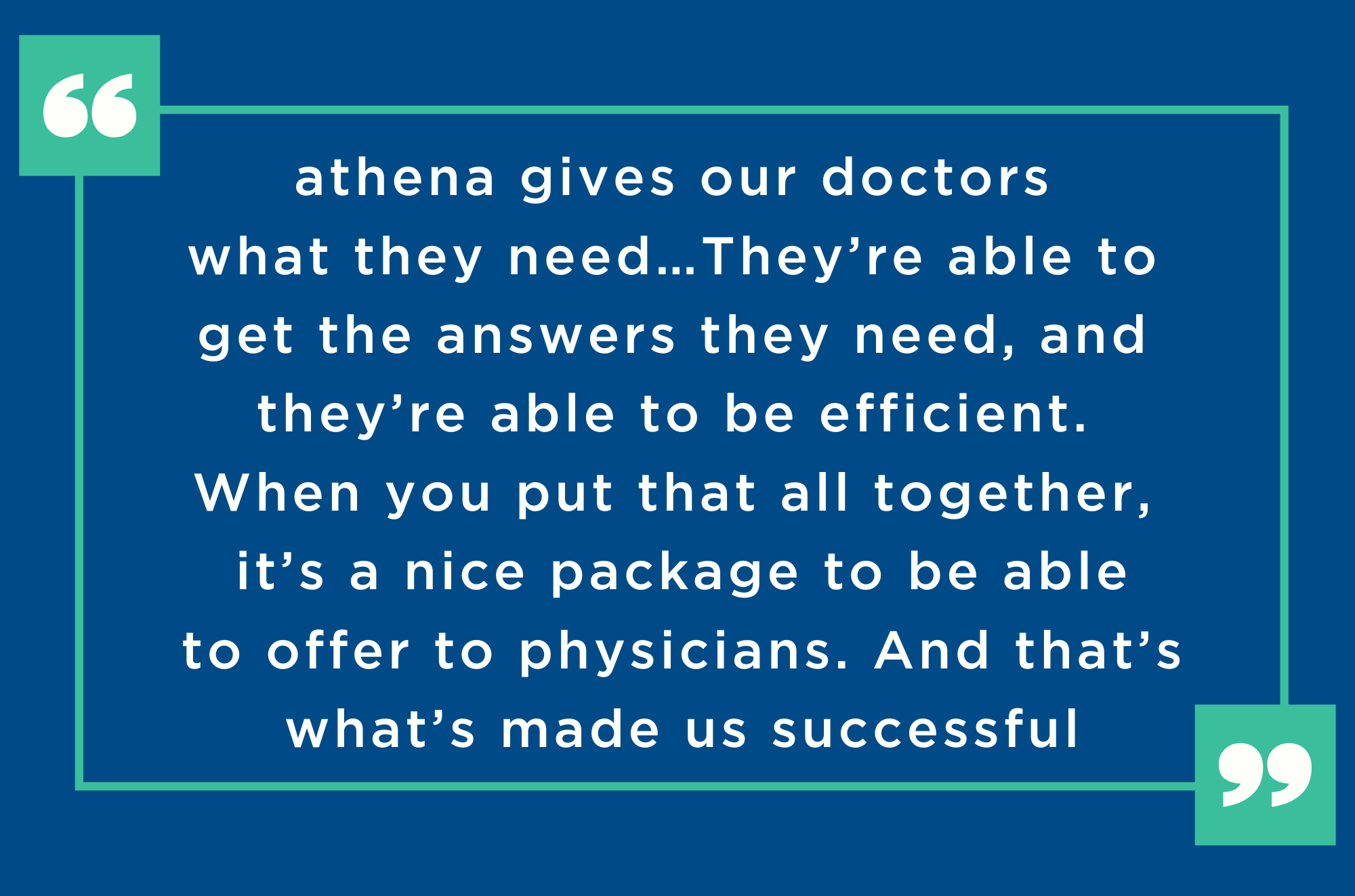 Turning data into actionable insights
As Consensus Health takes on more risk-based contracts, the reporting and dashboards they provide to practices are broadening beyond revenue cycle metrics to include outcome-based metrics, like care gap closure and annual wellness visits completed. In Lovett's opinion, Consensus' ability to aggregate metrics across practices is a strategic advantage in risk-based contracts.
Their clinical and administrative support teams also help individual clinicians dig into VBC-related metrics on a more granular level. For example, they might help a clinician determine which patients need follow-up for A1C adherence and then make sure all outreach and encounters are documented correctly. "This year, we're putting a lot of emphasis on accurately documenting the burden of care, and we're trying to make it part and parcel with how they see patients anyway, but just raise awareness of what they should be thinking about," said Lovett.
Scaling for future growth
The cloud-based nature of athenaOne also enables them to onboard new clinicians and practices very quickly. "We're able to get practices up and productive in a relatively short span of time, because the athena solution is easy for them to use. The fact that it is cloud-based is a huge win," said Juzaitis, as new clinicians can go live with less manual work.
Consensus plans to continue growing their footprint rapidly throughout the state of New Jersey, with a goal of adding 100 more physicians in the next year and a half. As Consensus grows, their partnership with
athenahealth gives them the confidence needed to scale their offering. "We're able to use athena's reporting more effectively on a daily basis to analyze what's happening in our divisions and make adjustments or do follow-ups. The insights we're able to glean from athena's reports every day is a different experience than what a practice out there can glean on their own," explained Lovett. "If you're going to try to grow exponentially and quickly, you need a platform that can scale, and that is another advantage that being on athena gives us."
These results reflect the experience of one particular organization and are not necessarily what every athenahealth customer should expect.