By Anna Zimmerman, M.D.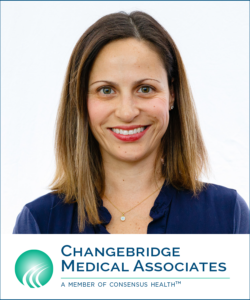 Our practice has been fielding a lot of questions about how to time the flu vaccine with the COVID-19 vaccine or booster shot.  We wanted to share with our community our thoughts on how people should time their shots.
How should I time my flu shot?
The scientific community generally recommends vaccination even in people who have already had COVID-19.
The most common question I'm getting is, 'How should I time my booster and my flu shot?'"  "Or my first COVID vaccine shot, or my second COVID vaccine shot, and my flu shot."  And the answer is, whatever works for you. There are no rules.
The only important thing to take note of is that the flu shot should be given at least one inch apart from your COVID shot if you get them at the same time or on separate arms. People can receive both shots on the same day at the same time or they can be spaced out over time.
The flu vaccine, generally, is very well-tolerated by most people. Common side effects from a flu shot include soreness, redness and swelling where the shot was given, as well as headache, low grade fever, nausea, muscle aches and fatigue, according to the U.S. Centers for Disease Control and Prevention.
People can get a sore arm sometimes, muscle aches, and a low-grade fever are a few of the same kinds of symptoms that one would have after COVID vaccine.  Therefore, having the two together, one might have a little bit more of those side effects, but it is not a reason not to have them together.
The vaccines can be spaced out over a span of weeks or months based on personal preference, but that it is not necessary to do.
When should I get the flu shot?
While some experts recommend waiting to get the flu vaccine so that it is more likely to last through the whole flu season, we recommend to our patients to get the flu vaccine whenever it is available to them.
The CDC recommends an annual flu vaccine for everyone 6 months and older and says ideally everyone should be vaccinated by the end of October. It takes 10 to 14 days for the flu vaccine to take full effect so if you wait until the flu begins circulating, your body may not have time to build up protection. Vaccine options vary by age but include several types of shots or a nasal spray version.
How bad will this flu season be?
Predicting the flu season can be as tricky as the weather forecast, but there are several reasons we think cases of flu will be higher than normal this year. Flu cases have dropped to historically low levels during the pandemic. The U.S. and Europe experienced hardly any flu last winter, and the Southern Hemisphere just ended its second flu season of the coronavirus pandemic with little to report.
Flu immunity comes in two ways: through natural infection and through vaccines. Since there was so little flu last year, fewer people than usual have protection from infections last season. There was essentially no infection last year to boost natural immunity, so we are relying on whatever natural immunity was pre-Covid.
But the U.S. experienced an unusual summer surge of children hospitalized with a different virus, named RSV, that usually strikes in the winter. That is a worrying sign of what to expect if flu returns.
We did not have a flu season last year, but we also didn't have an RSV season last year and we've had a bad RSV season already starting over the summer.  Therefore, it is possible that we may see a big resurgence of flu this winter.
With schools and businesses reopened, international travel resuming and far less masking this fall, flu could make a comeback. The big question is whether it will trickle in or roar back and put extra pressure on hospitals already struggling with COVID-19 surges.
Is it safe to get the flu vaccine at the same time as a COVID-19 vaccine or booster?
It is OK to get a flu shot and a Covid-19 vaccine on the same day, the Centers for Disease Control and Prevention says. Officials suggest getting them in different arms, or at least an inch apart if in the same arm.  If you haven't been vaccinated for COVID-19 yet, or need a third or booster vaccination, you can get vaccinated for flu and COVID-19 at the same time.
With the Pfizer vaccine expected to be authorized for children 5 to 11 years old in coming weeks, doctors say it could pose a good opportunity to get them vaccinated for the flu too, if they aren't already.
Who is Eligible for a COVID-19 Vaccine booster shot?
CDC now recommends that certain people are now eligible to receive a COVID-19 booster shot, including those who received Moderna and Johnson & Johnson/Janssen COVID-19 vaccines. Get more information and read CDC's media statement.
What You Need to Know
There are now booster recommendations for all three available COVID-19 vaccines in the United States. Eligible individuals may choose which vaccine they receive as a booster dose. Some people may have a preference for the vaccine type that they originally received, and others may prefer to get a different booster. CDC's recommendations now allow for this type of mix and match dosing for booster shots.
COVID-19 Vaccine booster shots are available for the following Pfizer-BioNTech or Moderna vaccine recipients who completed their initial series at least 6 months ago and are:
For the nearly 15 million people who got the Johnson & Johnson COVID-19 vaccine, booster shots are also recommended for those who are 18 and older and who were vaccinated two or more months ago.
It is critical to be vaccinated against the flu this year to stay as healthy as possible during the pandemic, protect people who are vulnerable, and keep hospitals from being inundated with both flu and COVID-19 patients.
Dr. Anna Zimmerman is an Internal Medicine Physician at Changebridge Medical Associates, a member of Consensus Health, in Montville, and has been practicing medicine and serving the community of Morris County for 13 years.  Dr. Zimmerman specializes in Internal Medicine and Preventative Gynecology.   When she is not working, Dr. Zimmerman enjoys playing tennis and spending time with her family. Born in Iran, she is trilingual and speaks Farsi and French as well as English.