In a recent webinar, Dan Fabius, DO, Consensus Health's Chief Medical Informatics Officer, dove into the basics behind Value Based Care — a form of reimbursement that ties payments for care delivery to the quality of care provided and rewards providers for both efficiency and effectiveness.  Value-based care models center on patient outcomes and how well healthcare providers can improve quality of care based on specific measures, such as reducing hospital readmissions, using better technology, and improving preventative care.
At Consensus Health improving the health of populations while meeting the growing demand for value-based care is a top priority. Physicians are at the forefront of improving the overall quality of care across the country and while the tools at their disposal are helping them to make healthcare better, there's no silver bullet that addresses all the challenges physicians face. By maximizing patient engagement, improving practice workflows, and optimizing the utility of existing tools and technology, Consensus Health helps provider organizations make the right kinds of choices to drive current and future success.
In this webinar, Dr. Fabius touches on attribution and provider alignment, cost of care, patient engagement, and other areas of value based care. Please listen to the recording found here and check back often for the next installment in this 6-part series.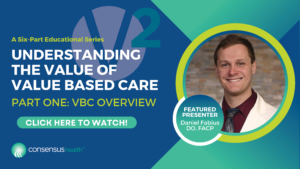 As Chief Medical Informatics Officer, Dr. Fabius provides clinical oversight of electronic health records; oversees clinical data management, migration, analysis and strategy; serves as a clinical liaison to the care coordination team; and acts as an advisor for clinical operations for Consensus Health in conjunction with Consensus Medical Group leadership.
In addition to his role at Consensus, Dr. Fabius is currently a practicing physician in Sicklerville, NJ. Dr. Fabius is board certified in internal medicine and clinical informatics. He received his bachelor's degree in biomedical engineering from Rensselaer Polytechnic Institute before earning his medical degree at Philadelphia College of Osteopathic Medicine. After completing his residency in internal medicine at Cooper University Hospital, he remained on staff as the Associate Program Director for Cooper Medical School of Rowan University. He also served as an Assistant Professor of Medicine at the school, as well as a clinical informatician for the Cooper Health System.
Dr. Fabius was selected to SJ Biz's "Who's Who in Healthcare" for 2019. He is a Fellow of the American College of Physicians, member of the American Osteopathic Association, Biomedical Engineering Society, and Tau Beta Pi, Engineering Honor Society. Most recently, Dr. Fabius was selected as one of 30 members nationwide of the athenahealth 2022 Clinical Advisory Board. As a Clinical Advisory Board Member, he will collaborate with the athenahealth product team and contribute his clinical voice and user experience to provide feedback on the long-term direction of their product roadmap as well as features in active development.